Scientific Evidence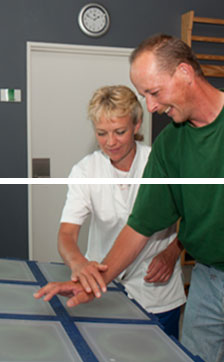 Experiments at the Funen Hospital in Svendborg, Denmark during 2006-2009 introduced the tiles in normal use as part of the rehabilitation equipment for cardiac patients. In one study in 2006, 20 cardiac patients between 50 and 80 years of age used the tiles for three months as a major part of their rehabilitation. In the hospital study, development physiotherapist Tonny Jaeger Pedersen concluded about the tiles equipment that "It unites play with meaningful rehabilitation and at the same time makes it possible for the therapist to, in a larger extend, direct the rehabilitation towards the individual patients", and that "when patients enter the tiles, something happens in their facial expressions; then it is fun. The physical contact with the other patients on the tiles creates a lively atmosphere in the gym. Furthermore, it is much more motivating to do the exercises with a competitive aspect. Several of our patients are former athletes and it has been very giving to be able to use the tiles as a rehabilitation tool".
The tiles were used in the rehabilitation gym of the hospital along with traditional equipment such as an exercise bike and a treadmill, and physiotherapist Pedersen concludes that "it is much more fun to exercise on the tiles. Patients forget the physical work when the lights flash and the game is on", and as one patient stated:
"When doing rehabilitation not everything is as much fun. Then it is nice to have a little competition. When having gone through a heart attack it is not always desired to go down to the gym and exercise. There has to be something to "spice it up", and I think that the tiles makes this possible".
Quantitatively, the study showed that as well Color race on the floor as Stepper demands a high proportion of the maximum heart rate. Both are very requiring and training for fitness and endurance as Color race on the floor demands an average heart rate on 75% of the maximum heart rate and stepper demands a total of 86% of the maximum heart rate, according to this test.