Design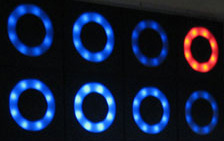 The modular interactive tiles can be used for architecture and interior design. Indeed, the tiles are designed based upon the Danish minimalistic design tradition, making the tiles an upscale design feature of any modern, design profiled home, hotel or company lobby.

With its modern expression, the tiles provide a soft, interactive light pattern which can easily be configured to fit the interior design. Where desirable, the modular tiles also provide the opportunity to create interactive light patterns. The modularity of the tiles allow easy configuration to any physical structure with the tiles, according to the interior design plan.
Amongst others, Entertainment Robotics has cooperated with World-famous Henning Larsen Architects.
Playground

To make interactive, physical and creative play, the modular interactive tiles are used as indoor playgrounds for children and young people. They construct their own platforms with the modular tiles in small or large room, and play physical games with each other.
Some games are competitive, and some are cooperative. Some games involve a lot of physical interaction, and some games involve cognitive training. Use in kindergartens has shown that children invent an incredible number of own games and play patterns on top of the tiles – they become creative to include the modular tiles in their own play. Because the tiles are modular, it becomes so easy for the children to use them as basic building blocks in any way they like in their own physical or imaginary play. For instance, the children can play with their own bodies on the tiles, with balls on the tiles, with dolls and teddy bears on the tiles.
When in lack of outdoor space or during autumn and winter time, the modular interactive tiles provide an ideal solution to create an interactive play space that will challenge the children both physically and mentally. The tiles can easily be stored in a corner or in a cupboard, and be set up by anybody within 1 minute – it is simply like putting a puzzle together. And it can be set up anywhere in a house, allowing full flexibility of use whenever there is just a tiny bit of time and space. So fun, interactive, and creative physical play can happen for all children anywhere and anytime.



Creative Play

Traditional construction toy, such as LEGO™, allow creative construction of physical structure with building blocks. The modular interactive tiles take this idea into the technological reality of today, by allowing users not only to build a physical structure but also a functionality with the building blocks (i.e. the modular interactive tiles). They can be characterized by technological tinkerability, where the environment/application makes it easy to put together fragments, try them out, and take them apart again. With modular interactive tiles appropriate for hands-on experiences, users are given the possibility to understand and easily become creative and innovative with the new technology both by composing and by decomposing the modular technological elements. The modularity gives freedom to build and create new physical structures and interaction possibilities for anybody: children and elderly, teachers and pupils, etc. The modular interactive tiles are a novel user-friendly technology that binds together physical and virtual play, and allows anybody to become creative within seconds.